Guess who just stepped into the world of lippies? I used to be not too keen on lip products aside from lip balm or lip tints, but I am a changed woman now. I do use lipstick occasionally, when I know that I won't be eating or drinking any time soon, but it's still one of those things I usually forgo when I put on makeup.
My biggest problem with lipstick is that it tends to transfer and fade easily, even when I'm just taking a drink. It might be just me over-reacting, but whenever I see lipstick left on that straw I just used, or the glass I took a sip from, all I could see was the money that went into that lipstick. Still, I did like lipstick well enough, so I began my search for resilient lip colors. During my last visit to Taipei, I found out about
Clio's Lipnicure
, which had a lot of raving reviews. Sadly though, the original matte Lipnicure was no longer on sale, and I wasn't too keen on the new Lipnicure Glass and its shades. However, I did find the
Lipmanicure by RiRe
, an obscure Korean cosmetics brand. It was obviously a dupe of the Lipnicure, but since I fell in love with the Wine Burgundy color, I went for it.
Rire's Lipmanicure in Wine Burgundy and Muse Red
Rire's Lipmanicure comes in 11 shades, but they're not easy to find. In Taipei, they're not available in most drugstores or beauty stores. I was lucky enough to find these two colors at
Strawberry Paradise Beauty House
in one of the alleys in Ximending. In most other places, like 86shop, the shades available were either too pink, or too orange. These were on sale when I bought them, so I bought two colors:
Wine Burgundy
and
Muse Red
. At first glance, they look like cute little bottles of nail polish and come with a short applicator. Upon opening the bottles, you get hit by this artificial-smelling fragrance of sort, but it disappears after a while, so I didn't get too concerned about it.
Personally, the applicator was too short and wide cap made it really difficult to apply the lipmanicure. Especially for someone like me who prefers clean lines when it comes to my lips, the applicator was a nightmare. Midway into applying this for the first time, I gave up and switched to a lip brush.
Muse Red (L) and Wine Burgundy (R) applied with the built-in applicator.
Muse Red is a warm, matte, bright red shade, while Wine Burgundy is a rather cool, matte, dark red. All of the Lipmanicure colors come in matte, but you can also opt to purchase the top coat if you want a glossy finish. (Just like a real manicure!)
When it comes to application, awkward applicator aside, the product applies smoothly. However, it is important to note that the product dries quickly. This is because once the lip manicure dries, it will not budge. If you try to even out layers by building it up, you're going to end up with patchy looking lips. What I do is, working one lip at a time, I outline my lips with it, then fill it into get a nice, even layer. The great thing about these shades though, is that one layer is enough for a solid finish. Honestly, two layers might be a bit too much.
Aside from Wine Burgundy and Muse Red being
just
the colors I wanted for my lips, I loved how resilient it is.This is what the Lipmanicure looked like after I put it under running water and tried to smudge it with a finger.
It smears a bit, but otherwise, it looks untouched. If I hadn't touched it right after wetting it, I doubt it would have smeared. I've worn Wine Burgundy a couple of times, and it really doesn't transfer onto anything. Not on my glass, not on a straw, not on a bottle of water...that's how resilient it is! Though wiping my mouth with a tissue did cause some of it to come off, it was barely noticeable. It did start fading and smudging when I had oily food, but that's understandable.
Removing it is a bit of a challenge. Although my Shu Uemura Cleaning Oil had very little problems getting it off my lips, it did require a bit of elbow grease to get the stains off the area around my lips where it had smeared while I was trying to remove it.
The RiRe Lipmanicure dried my lips out so much, that it cancels out its other positive qualities. It's such a shame because I really love the Wine Burgundy shade and it's staying power. If anything, I'll just end up putting this on whenever I feel like taking a nice selfie and then removing it immediately after.
Here is a little selca of me when I first tried out the Wine Burgundy color: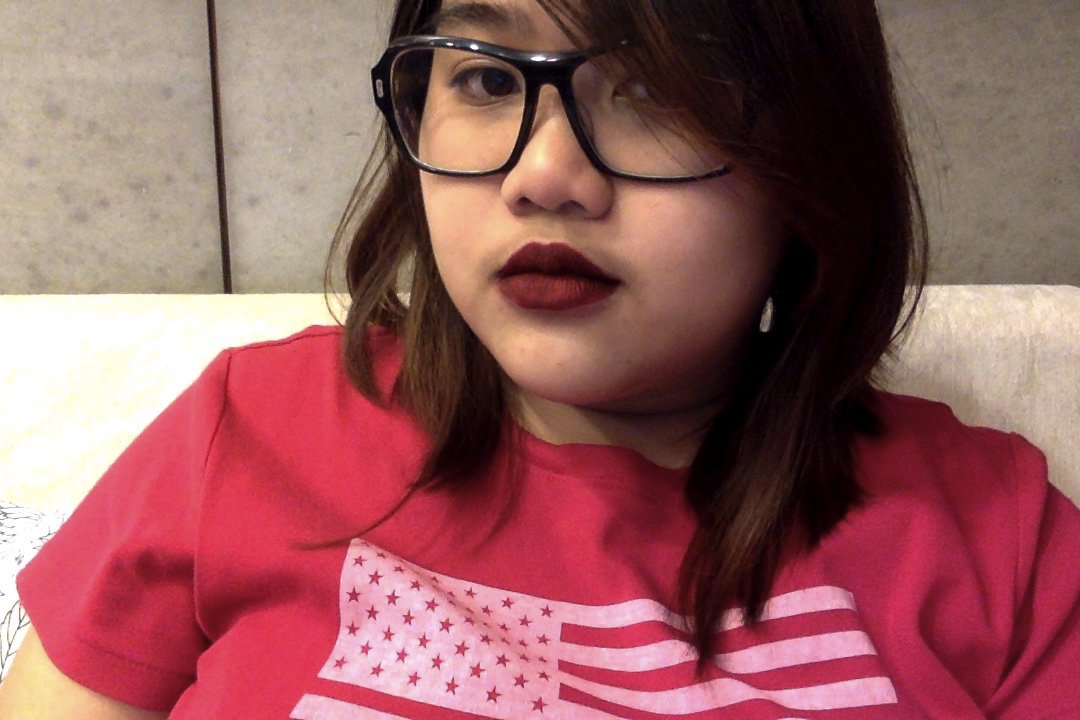 Isn't the color so lovely? I feel like an evil queen. Or a teleserye contrabida mom.